I'm so happy that Laura chose to share the photos of her baby Sebastian's nursery with me!  Just scroll through these photos are you'll see why I'm so excited.
Inspired by Animals wallpaper from Minkani Lab, this bright, creative room was a labor of love.  Unfortunately, Minikani wallpaper is all but impossible to acquire in the US, so this resourceful mama scaled the design in Photoshop and painted it as a mural on the wall.  While the project took 40 hours (!), I think you'll agree that it was worth her efforts.
The furniture in the room is the Baby Mod Olivia collection and storage is thanks to Ikea's Expedit, which is customized with legs to match the crib and dresser.  I also love seeing the Modern Geometric Crib Quilt from Barbara Perrino in this space.
The window treatments feature Holli Zollinger's Arrows fabric, which matches the Charcoal Arrow Changing Pad cover from Iviebaby.
The cozy reading area includes a Serenity Star from Aden and Anais and a beautiful Kartell Componibili side table.
Opposite the mural, this wall with the colorful bunting and library is almost as fun.
Sebastian is a lucky little boy with all the fun toys and accessories his mom has collected for him.
He'll also really enjoy selecting books on his front facing wall bookshelf.
This room would simply not be the same without the colorful display of books.
Thank you Laura for sending these amazing photos.  This is a room filled with love and awaiting all the adventures that come with a new baby boy!
Some affiliate links included
iPads and kids go together like peanut butter and jelly.  Well, maybe not THAT perfectly, since clumsy little fingers and fragile electronic equipment aren't always a good mix (I have a cracked iPad screen to prove this!).  But the amazing apps and intuitive touch screen interface mean kids can usually be using iPads before they can even figure out how to turn on the television.  So how do you protect your technological investment?  A good protective case is key and the favorite at our house is the iGuy from Speck.
There are a few things that I really like about the iGuy.  In addition to its adorable appearance, the cushy foam material protects your iPad and the bulkier shape and bright colors mean you're not going to lose the iPad in between couch cushions, under the bed or in a pile of papers and coloring books.  The handles are great when little ones are carrying the iPad around and you can stand the iGuy on its legs for movie time.
My dad liked ours so much that he bought one for his own iPad!
The iGuy fits iPad 4, iPad 3, iPad 2, and iPad 1 and retails for $40 ($35 right now on our affiliate amazon.com).  There are also smaller iGuys for the iPad mini ($30).
Some affiliate links included.
My obsession with travel-inspired nursery art and other little details started when we decided to change our nursery into a toddler or big-boy room recently.
Our toddler room has a subtle travel theme and in the process of putting it all together, I came across a few gems.
Here are five great modern and affordable options for your travel-themed nursery.
Leaving on a jet plane print by Violet May on Etsy ($28)
Bon Voyage Airplane Garland by Le Petite Fest on Etsy ($12)
Oh the places you'll go world map print by Ink of Me on Etsy ($15)
Bild poster from Ikea ($5)
 Around the World letters from Urban Outfitters ($12)
Unlike many other bloggers, I was never a fan of the Go Crib from Guava Family.  The only time we've mentioned it on the blog is when it was a "Best Alternative To A Crib" 2012 Cribsie Award Finalist.  The inflatable rails seemed unnecessarily bulky to me.
I was happy to find their newest travel cribs at ABC Kids Expo 2012 are very different.  Coming soon, we have their Lotus Crib and Lotus Bassinet.


I don't have availability dates or price info on these yet, but I'll update the post when I find out!  In the meantime, take a look at their video to get a better idea how these products work.
Tell me, did you like the Go Crib, or is the Lotus more your style?
I can't believe I haven't revisited the Breeze playard from 4 moms since last September!  You'll have to forgive my lack of attention to this deserving product, but now is actually a great time to bring it up because the Breeze now available for pre-order!  If you are currently expecting and can wait until October, you are going to want- no, NEED- one of these!  The Breeze is the easiest playard ever.  I've never recommended a pack-n-play because I had one and while I used it because it's what I had, it was ugly, awkward and I never did get the hang of opening and closing the thing.
The Breeze is just another example of why I'm envious of all you who are having babies at this point in time!  How much easier would their babyhood have been if I had a Breeze when my boys were born instead?!
It's really just as simple as it looks.  I've tried it myself.  It comes with the bassinet insert (shown below) as well as a travel bag and portable changing pad all for $300.
If you want to be among the first to get your hands on this gift to parenthood, you're going to have to order now.  Their initial pre-order production is already sold out and is expected to shop in mid-October.  Orders going forward are being filled on a first-come basis.
Another baby gear category in the Cribsie Awards that I am excited to explore is "The One Thing You Should Never Travel Without."  There are a few products on the list that are new to me and a few I always use while traveling.  We've traveled with both of our boys since they were only a few weeks old.  Traveling with children can be tricky if you're not prepared, but there are lots of products on the market to help any trip with your family go much more smoothly.  You can vote for your favorites in this year's Cribsies.
These are the five finalists:
A Parent Company Go Anywhere Booster Seat is a portable booster in a stylish carrying bag that weighs just 1.4 lbs.  It comes in pink and blue.
Bubble Bum is an inflatable booster that folds up in a little pouch and replaces a full sized booster seat while traveling, in carpool or for play dates.  Sounds like I should throw a couple of these into my car!
Cares Child Aviation Restraint System keeps kids (22 to 44 pounds) safely restrained on the airplane without a car seat.  It is certified by the FAA and fits into a 6″ sack.
Gogo Kidz Travelmate is among my #1 travel requirements.  If you're taking your car sear with you on the plane, this is the only way to go.  We've used a gogo Kids Travelmate for every plane trip since our oldest turned two years old and it's made getting through the airport a cinch.  We get asked about the Travelmate every time we use it and I overhear someone saying, "I wish they had things like that when our kids were little."  I swear to you, EVERY time.
Phil & Teds Lobster is the newest and most stylish clip on portable highchair yet.  I remember we had a clip on high chair for my baby brother (whose birthday it is today!), but it wasn't anywhere near as portable and convenient as the Lobster.  It also had little duckies or something printed on the vinyl so…
Do you have any of these?  Thoughts?  Which one would help YOU while traveling?
Originating in Spain, as much of the most original design these days does, Babyhome is exploding onto the US market with a a well-rounded collection of simple, stylish and colorful baby gear.
In the photo above, you can see their SweetKit, which is a bouncer that transforms into a high chair.  Talk about multi-tasking!  Behind the SweetKits you can see Side, which is the most stylish bed rail (other than those that are designed as part of a bed) that I've ever seen.
My favorite Babyhome item is the Dream travel cot.  This reminds me of the baby clic I saw last year (also from Spain), but that one was never brought to the US.  This type of travel bed makes for a great mini crib or bassinet.
The Eat high chair is a super lightweight chair with an aluminum frame and removable, washable cover.  The chair also folds flat for storage.
The Onfour baby seat is unique because the wheels allow the chair to me moved easily without being lifted.  The Onfour is also super light and can fold flat.
Finally, Babyhome's stroller is Emotion– an affordable, full featured, lightweight stroller.
All the products should be available January.  They all come in Orange, Red, Lime, Black, Sand, Purple, Navy and Brown, so you can have an entire rainbow of gear or get everything to match.
4 moms debuted a new product at ABC Kids Expo this past weekend. Their all new playard is a "Breeze" to open and close back up.
In less than 10 seconds, Emily from 4 moms collapsed and reopened the new (coming next summer) Breeze playard.
I tried it myself and it's as easy as it looks. The retail price for the Breeze is expected to be $250.
4 moms seems to have also finally nailed down a release for the long awaited Origami stroller.  These should be available in January 2012.  In case you haven't heard about it, I'll just share this video and you'll see exactly what Origami is all about.
The Origami will probably retail for $850 and I'll let you know once these items are released.
I have a few pictures of this wonderful travel-themed nursery to share with you.
We've been talking a little bit about using maps in decor and I love this subtle mural treatment.
This is a great display of their mold-o-rama collection.  It's great to fill your baby's room with fun things that you love.
The travel-theme is obvious but not overwhelming, with a feature in the room being an ELK Lighting Novelty Prop Plane.
Finally, my favorite part of the room's decor is the collection of colorful travel posters by David Klein.
I have personally been looking for David Klein's St. Louis poster for my own home!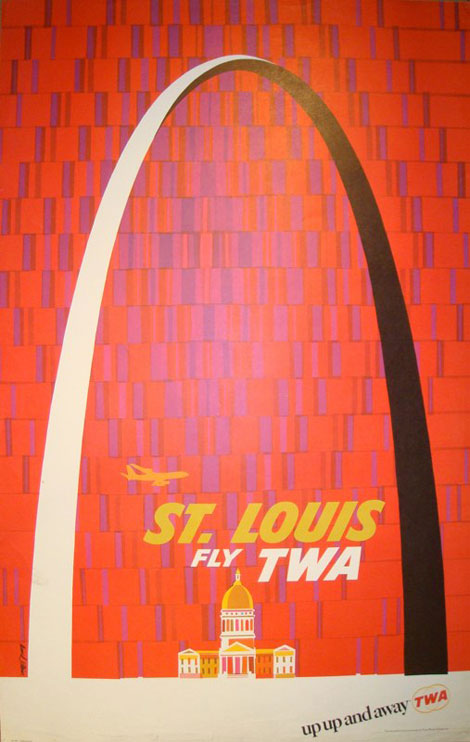 Thanks to Justin from Mid-Century Austin Living for allowing us to share these photos.  I hope the room is a jumping off point for many travel adventures!
(If you would like me to feature your nursery here as well, please drop a line to esther@buymodernbaby.com)
I'm embarrassed that I hadn't though of this before!  The Traveller portable crib from Phil & Teds would be an amazing gift for any new parent, especially if they ever travel anywhere.  How do I know?  We've got one of these.
When we travel we like to keep things as simple as possible so bringing the usual travel cribs along cramps our style and weighs us down.  You can't always count on hotel cribs, and when you're staying with friends or family, they aren't always equipped with the proper infant/toddler sleeping accommodations.  The Traveller crib has got you covered.  This bed folds up small and weighs only 5 1/2 pounds.  Ours fits into the kids' suitcase so it's not even an extra piece to lug around.  It is durable, easy to assemble and I can pack it back into its carrying case without any trouble.
The Traveller would make an amazing shower or new baby gift, especially coming with the promise of taking the little one as an overnight house guest to give mom and dad a break!  It won't take up a lot of space in the house while it's not in use, and when they go anywhere, they will be set with a stylish, convenient, and easy to use place for baby to safely rest… and they'll have you to thank for it!
The Traveller retails for $200 and is available on amazon.com.