Two new zoo pals join the crew at Skip Hop.  Meet the Hedgehog and the Butterfly!  These cute characters join the menagerie as Zoo Packs and Zoo Lunchies.
These should just be mandatory for all preschoolers.
To celebrate the launch of these two new styles, Skip Hop is giving away your choice of a Hedgehog or Butterfly Zoo Pack and Zoo Lunchie.
Enter to win via the rafflecopter widget below.  You must leave a comment telling us which pack and lunchie you'd choose.  There are a few additional entry methods you can take advantage of to increase your odds of winning.
This sweepstakes is open to US resident over the age of 18.  It starts right now and ends May 14th, 2014 at midnight.
Thanks to our friends and advertisers at Skip Hop for this fun giveaway and good luck to you!
Some affiliate links included.
In case you want your stroller to look like your great-grandmother's favorite armchair, Maclaren's Cath Kidston Spray Flower Quest Buggy is back.  $335
Nothing against Cath Kidston, I just prefer her modern vintage English style in smaller doses…
Clockwise from top left:
Garage Kids Mini Backpack- $26
Penguin Double Duvet Set- $90
Puppies and Kittens Nursery Set- $20
Kew Sprig Kids Backpack- $42
Posy Zip Changing Bag- $120
Spot Changing Bag- $105
Spot Zig Changing Bag- $120
Cowboy Changing Bag- $100
And now please excuse me as I redecorate my son's bedroom to suit that penguin bedding!
We're in the middle of Back-to-School season and in case you haven't found the perfect backpack / lunchbox combo, you're in luck, because I have!  I love this partnership between DwellStudio and Thermos.  Not only do you get a cute DwellStudio pattern backpack and matching insulated lunch box, but the Thermos straw bottles, food jars and sippy cups round out the set perfectly.  One of my little one's favorite lunch options at preschool is macaroni and cheese in his food jar, but ours isn't nearly as cute as these.
In case you're not quite ready for back to school yet, the diaper bags are super and stylish as well.  The messenger diaper bags are $110, the Madison bags are $70 and the Hudson bag (teal) is $180.

Some affiliate links included.
Amanda, my stylin' friend from coos & ahhs, is kicking off my week of vacation guest posts with these backpack picks.  I'm glad my little guys already have backpacks to haul through the airport because I'd have a hard time deciding which of these nine to get!  Thanks Amanda!

Send Them Packing!
School's out and the summer holidays are among us! The warm weather and no school means we all need a little space. So no matter if your little one is off to camp, a visit to grandma's house or a full-on family vacation, send him packing–and schlepping his own stuff for once!–with any of these adorable bags. He'll be begging to carry his ten pounds of action figures.
1- Fjallraven, Classic
2- Franck & Fischer, Penguin
3- Herschel Suppl,y Settlement
4- Medium Control, Watson the Cat
5- Blabla Kids, Bubbles
6- Esthex, Morris the Fox
7- MIBO, Lion
8- Esthex, Monkey
9- American Apparel Kids, Color Block
Two adorable new animals have just been added to Skip Hop's menagerie.  With the Shark and Panda, the total animal count is up to 16– enough to set up most preschool classes with a different Zoo Pack for each kid!  How cute would that be?!
In addition to the Shark and Panda backpacks and lunchboxes, the Shark and Panda can be found on Zootensils, bibs, tableware and flip-straw sports bottles.
Oh Skip Hop, you're just killing me with the cuteness!
If you haven't fallen in love with any of the dozen animals in Skip Hop's Zoo yet, I'm happy to present the Lion Zoo Pack Backpack
and Lunchie Insulated Lunch Bag
.
Get ready for back to school with this amazon exclusive! $20 for the backpack and $14 for the lunch bag.
You can also pre-order the Cat
and Giraffe
.  They just keep making it harder to decide (and less likely the other kids in the class will have the exact same one)!
These should be release on August 3rd, in plenty of time to make it for the first day of school.
Some affiliate links included.
I'm happy to introduce you to Skip Hop's newest zoo creatures.  The Hippo and Dinosaur Zoo Packs are now available for $20.  They are also available as Zoo Lunchies for $14.  They join the bee, dog, elephant, fox, frog, ladybug, monkey, mouse, owl, penguin and zebra.
This collection just keeps getting cuter and cuter.  Keep these in mind for camp or back to school.
Skip Hop launched more new items at the ABC Kids Expo this year than they ever have at one time before.  I'm just going to share my favorites with you or we'd be here all day.
One thing in particular had the entire show buzzing…
Don't you just love the Jonathan Adler collaboration with Skip Hop?  This exciting collection includes four patterns: Wave Multi, Flame Yellow, Chevron Blue and Nixon.  All four will be available as Duo Essential Diaper Bags ($75) and Pronto Changing Stations ($34), and the Dash Messenger Bag ($80) will be available in Chevron Blue and Nixon.  The line should be in stores in December!
The other product that had everyone at the Expo talking was the Complete Sheet.  With the bumper controversy continuing to brew, Skip Hop developed the Complete Sheet to ensure you can have all the style of a bumper without any of the risk.  Genius.
The bumper free 4-piece bedding sets include the Complete Sheet, Nursery blanket, crib skirt and an Airflow wearable blanket for $120.  The sheets and blankets can also be purchased separately and the collection will be available in November.
My two favorite sets are Chocolate Lattice…
…and Mod Dot (which is already a popular bedding pattern from Skip Hop).
They look incredible, right?
Skip Hop has also made a name for itself as one of the major players in the modern baby bath accessories market.  I love all of the new products they are releasing in the coming months.
Your first must-have item is Soapster, the adorable foaming soap dispenser.  Coming soon, he'll be retailing for $24.
There's also a new Yellow Ducky Spout Cover, and some fun toys like the Starfish Stay-Put Stacker, Octopus Ring Toss Fountain and the Sort + Spin Fishbowl Sorter.
These will be coming out in the next couple months.
The last thing I want to mention is the ladybug items.  To satisfy the demand for another girly character, ladybug items have been added to Skip Hop's mealtime and Zoo pack collections.
It's always fun to visit with Skip Hop and as usual, I came away excited and impressed.
My little one started preschool yesterday (in the top photo) and today my older one started Kindergarten!  So in addition to the new shoes and school uniforms, I bought a few back-to-school items.
1- Mini Kanken Backpack- $45
2- So Young Green Rocket Lunchbox- $30
3- Goodbyn Original- $26
hen you start sending your babies to school (*sniff- babies turn into preschoolers before you know it!), you're going to want to find the backpacks without Spiderman, Batman, Sleeping Beauty and Cinderella printed across the front.  Your kids can start school looking stylish and fun without plastic cartoon prints.  To help you find the bags that will assure your modern tot is at the head of their class, I've compiled this guide with my back to school backpack picks.
(you can find these and more by clicking my amazon affiliate link)
Dante Beatrix Little Kid Back Pack- $42 (even more designs to choose from!)
(order your favorite today from this amazon affiliate link)
Neoprene-like cuteness from Dabbawalla- $40
(these too can be ordered by clicking on my amazon affiliate link)
Four Peas (more designs available!)- $25
(find these through my amazon affiliate link)
Fjällräven's Kånken Mini (in many, many colors)- $45
Little Packrats- $30
Pottery Barn Kids- $24 to $26
If you want to go really plain and simple: L.L. Bean- Junior Original Book Pack- $23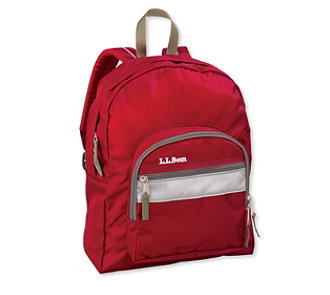 Updated 8/4/2010:
Gap has a few cute little backpacks.  I spotted these at the mall today for $29.50 to $34.50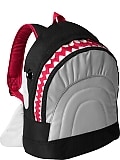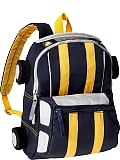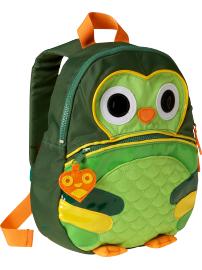 So if they've got something at the Gap then you know you have to check Old Navy as well.  Their bags are $9 to $14.50.
Let me know if you think there are any great preschooler bags I missed.