Target is a great place for almost all home items. I can happily get lost in the home section for hours. But honestly, the kid and baby sections are often lacking in good modern decor for the nursery or toddler bedroom. Particularly in store, I have a hard time finding anything that would work for our modern aesthetic in the nursery or toddler room.
With that being said, I was excited to come across several modern crib bedding sets on Target.com recently, all under $140 and most under $100.
Bananafish Poppy crib set ($99.99)
Black and white dots. Need I say more? The bold flowers mixed with the clean look of black and white makes this set a favorite of mine. While I do love the set, the less than modern crib is a turn-off and I would love to see this on my current favorite budget-friendly crib, the Babyletto Hudson.
Room 365 Globetrotter crib set ($69.99)
I have a thing for airplanes. This set is simple yet bold, exactly what I love in a bedding set for a child.
Birds and flowers crib set ($99)
This sweet, yet still very modern, set features soft pink birds and flowers mixed with bold black making this set a stand out for me.
First Trike crib set ($99)
Bicycle, bicycle, I want to ride my bicycle. I love the clean bicycle print in fun color palette of orange, blue and beige.
Bananafish Linden crib set ($99.99)
With three simple patterns, this blue, yellow and grey set is fun and simple.
Room 365 Hot Air Balloon crib set ($79.99)
Hot air balloons plus orange dots plus chevron is a winning combination. This set could be playful and sweet in any nursery.
Bacati Baby and Me Giraffe set ($139.99)
The cute giraffe print plus a bold dot pattern make this a fun modern set.
Most of these sets are not available in store but are available online. Would you design your nursery around one of these crib bedding sets? Which is your favorite?
Some affiliate links included.
Petit Collage recently added a number of new Wood Panels and Prints to their web shop.
The 24″ x 36″ Jumbo Panels are dramatic pieces that would be incredible focal points for a fabulous nursery. $220
There are also four smaller 18″ x 18″ Jumbo Wood Panels.   You may recognize some of the images but the square dimensions are new. $96
Finally, they've got a few new prints on wood. $16
Pop & Lolli, has just added new decals to their collection for "Summer 2013″.  These fabric decals range from $67 to $217 and are full of fun and colorful details.  They can be mixed, matched, rearranged and played with.  The new designs include…
Until July 5, use coupon code: HAPPY for 15% off your order.
Trendy Peas has added a few more mobiles to their current collection of laser cut acrylic designs.
The Airplane and Clouds Mobile, the Birds on Branches, Bus Car Bike, and Cloud and Rain Drops Mobiles are all $39.  There are three other mobiles currently from Trendy Peas– the Deer Fox Bunny, the Flock of Birds and Stacked Owls.
As far as themes and subject matter go, I really love the Airplane and Clouds Mobile and the Bus Car Bike Mobile because there isn't anything simple and modern to rival them.  We've got owls and birds and other animals, but these really clean white transportation themed mobiles are something different to keep in mind.
My obsession with travel-inspired nursery art and other little details started when we decided to change our nursery into a toddler or big-boy room recently.
Our toddler room has a subtle travel theme and in the process of putting it all together, I came across a few gems.
Here are five great modern and affordable options for your travel-themed nursery.
Leaving on a jet plane print by Violet May on Etsy ($28)
Bon Voyage Airplane Garland by Le Petite Fest on Etsy ($12)
Oh the places you'll go world map print by Ink of Me on Etsy ($15)
Bild poster from Ikea ($5)
 Around the World letters from Urban Outfitters ($12)
For this, my latest nursery inspiration board, I based the style and colors on the Flight of Fancy print by Dan Stiles. I hope you like this gender neutral retro modern design.
1- Flight of Fancy 18″ x 24″ Print by Dan Stiles- $50
2- Moon and By Air from Petit Collage- $16 each
3- Elliott Mobile from Frazier + Wing- $78
4- Eden Ceramic Yellow Table Lamp
from The Land of Nod- $129
Airplane from Kid-O- $19
5- Hiya Crib – White
from Spot on Square- $750
6- Vintage Refurbished High Gloss Tiffany Blue Dresser- $595 (1 of in LA)
7- Crib Sheet in flannel polka dots from iviebaby- $40
8- Eames Molded Plastic Armchair in Red- $550
Large Orange Tubtrug
- $16
9- Cariboo Activity Gym in White- $200
10- Sweater Rug from West Elm 8′ x 10′- $500
Some affiliate links included
We love our little Green Toys Tugboat, so I'm excited to see a few new additions to Green Toys' vehicle lineup.  Coming in October, you'll find Submarines, Seaplanes and Airplanes.
Like all their other toys, these vehicles are made from 100% recycled plastic, are BPA, phthalate and PVC free and are made in the USA.
Some affiliate links included.
Sometimes it's hard to think past the newborn stage when planning a nursery, but if you simultaneously design a space that works for newborn, infant, toddler, and preschooler, you're really going to get the most for your money and efforts.
Today's nursery tour is a great example of a space that can be adapted to suit any age.  This incredibly warm modern nursery from Amanda of AJ Cooper is transitioning from nursery to little boy's room as we speak and as Cooper grows.
If only the Storytime rocker were still available in orange!  I love how the orange goes with the warm wood dresser, and that wood side table is a nice study piece in a room with an active little boy.  He's not going to break that thing.
The original design inspiration for the room came from the Caden Lane Blue Twiggy fabric that is part of the crib bedding.  As you can see, the wall mural is an adaptation of that design.  I love when they go around a corner like that.  The crib is the Loom Crib from nurseryworks and it looks incredible in this nursery.
I have a few pictures of this wonderful travel-themed nursery to share with you.
We've been talking a little bit about using maps in decor and I love this subtle mural treatment.
This is a great display of their mold-o-rama collection.  It's great to fill your baby's room with fun things that you love.
The travel-theme is obvious but not overwhelming, with a feature in the room being an ELK Lighting Novelty Prop Plane.
Finally, my favorite part of the room's decor is the collection of colorful travel posters by David Klein.
I have personally been looking for David Klein's St. Louis poster for my own home!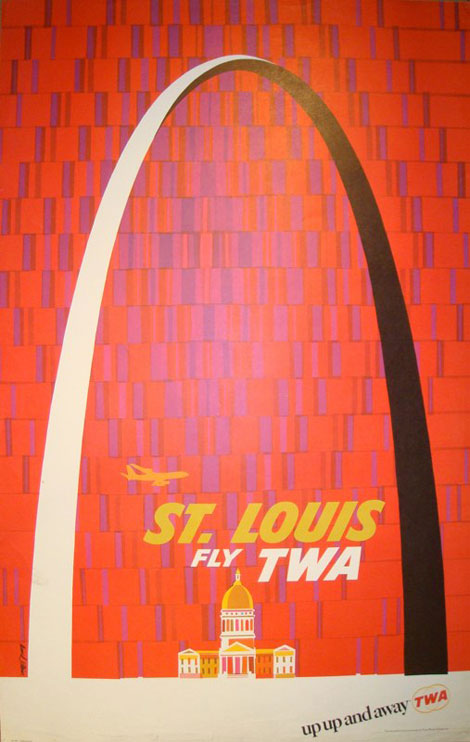 Thanks to Justin from Mid-Century Austin Living for allowing us to share these photos.  I hope the room is a jumping off point for many travel adventures!
(If you would like me to feature your nursery here as well, please drop a line to esther@buymodernbaby.com)
I've had Little Korboose on my list to show you for a while now, and I hope you love them as much as I.
My top favorite Little Korboose products are the stuffed pillows.  You can find a little pillow ($25) to suit almost any nursery.
The Alphabet Poster is charming as well.  You can get it framed for $65 or unframed for $25, and it also comes in a blue/green color scheme.
The screen printed wall art and canvases are incredibly sweet.  I'm trying to think of someplace to use them myself.
I also want to point out the star garland.  It's a really unique and lovely and would go well anywhere ($18).
Be sure to visit Little Korboose and see all the items they have to offer.